Homebuyers Willing to Sacrifice 'Must-Haves' in Favor of Good School Districts August 15, 2018
Homebuyers Willing to Sacrifice 'Must-Haves' in Favor of Good School Districts
It should come as no surprise that buying a home in a good school district is important to homebuyers. According to a report from Realtor.com, 86% of 18-34 year-olds and 84% of those aged 35-54 indicated that their home search areas were defined by school district boundaries.
What is surprising, however, is that 78% of recent homebuyers sacrificed features from their "must-have" lists in order to find homes within their dream school districts.
The top feature sacrificed was a garage at 19%, followed closely by a large backyard, an updated kitchen, the desired number of bedrooms, and an outdoor living area. The full results are shown in the graph below.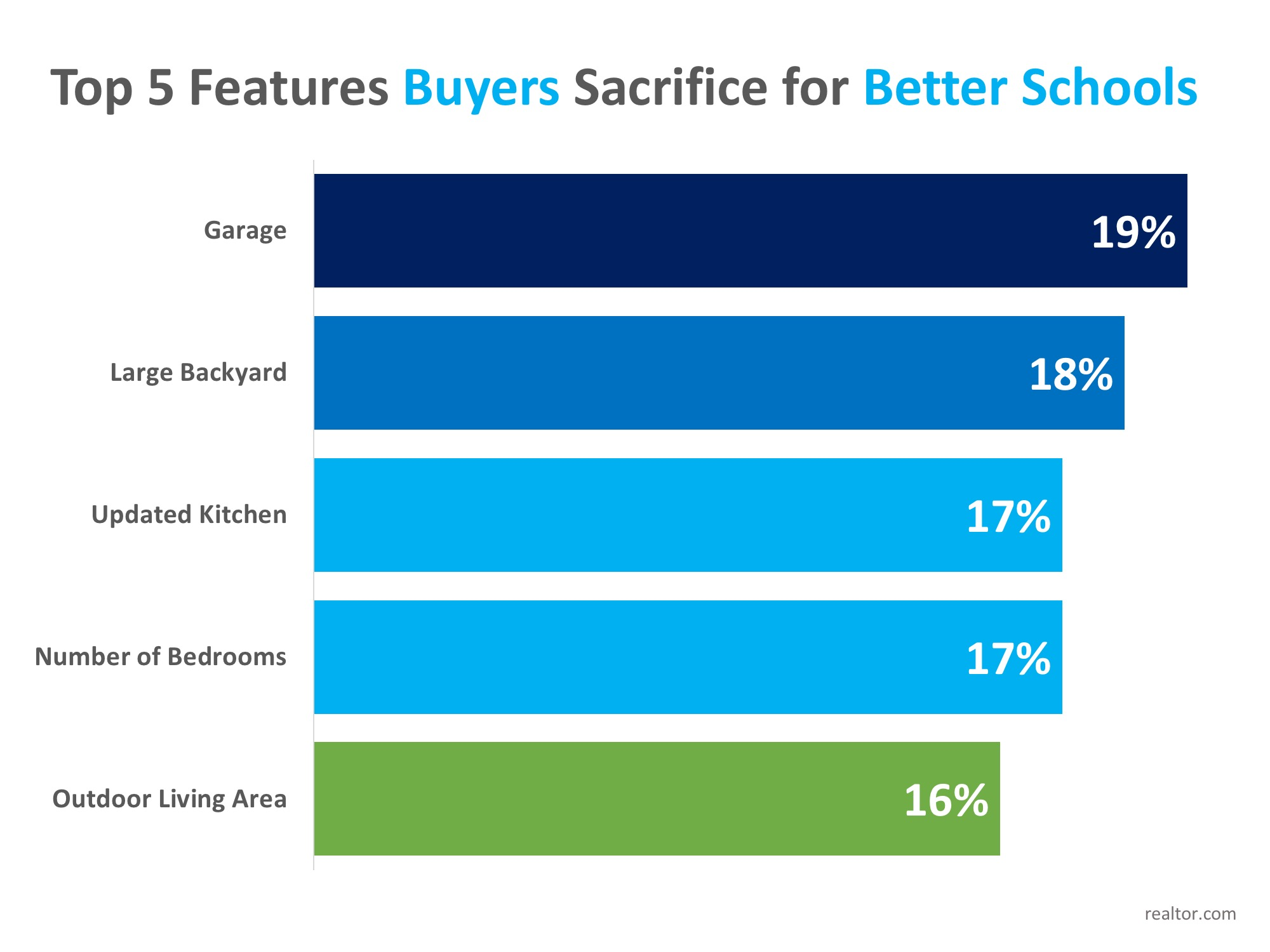 Buyers are attracted to schools with high test scores, accelerated academic programs, art and music programs, diversity, and before and after-school programs.
With a limited number of homes available to buy in today's real estate market, competition is fierce for homes in good school districts. Danielle Hale, Chief Economist for Realtor.com, explained further,
"Most buyers understand that they may not be able to find a home that covers every single item on their wish list, but our survey shows that school districts are an area where many buyers aren't willing to compromise.

For many buyers and not just buyers with children, 'location, location, location,' means 'schools, schools, schools.'" (emphasis added)
Bottom Line
For buyers across the country, the quality of their children's (or future children's) education ranks highest on their must-have lists. Before you start the search for your next home, let's get together to discuss the market conditions in our area.
FREE buyers and sellers guides (updated every Spring/Summer/Fall/Winter) with tips for preparing your home for sale, getting your credit in order, and what to expect. Download for FREE. Also, over 500+ blog posts with market data, simple easy-to-understand tips, financial guides, and more. See it here by Clicking HERE. Then click either "Buying?" or "Selling?" at the top of the page.
Website available in English and Spanish.